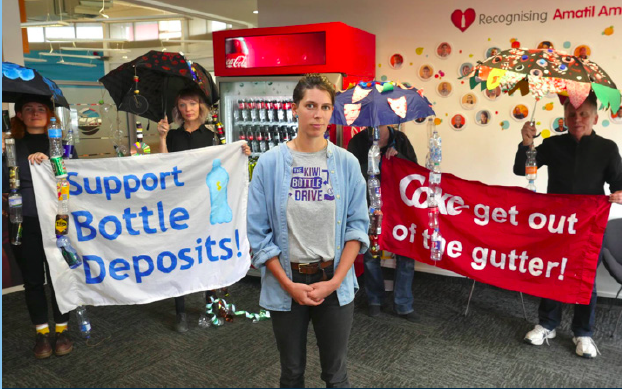 2019 is shaping up to be the year that a Container Deposit Scheme (CDS) becomes reality. You probably remember that in January we talked about the amazing Kiwi Bottle Drive petition and open letter to Parliament, calling for the introduction of a bottle deposit scheme. With more than 15,000 signatures on the petition and fifty ally groups in support, the team handed it over to Green MPs and Minister Eugenie Sage. You can check out their full newsletter here .
At the end of February, the Product Stewardship Council released Happy Returns, a document setting out a clear pathway for establishing a Container Deposit Scheme in New Zealand. The key points in the document are
All stakeholders should be involved in developing a New Zealand CDS. We must ensure that New Zealand's CDS is not developed by beverage interests alone and designed primarily to meet their needs..
There is no need for Government to wait for complete agreement on the best model. It should declare that a CDS will be introduced within 18 months, and appoint an expert group to develop the final model.
This document is an excellent resource and roadmap examining the principles, stakeholders, legislation, design and implementation of a CDS.
Putting more weight into the campaign is the visit of Robert Kelman happening on 20 March in Auckland
Rob has spent his entire working life advocating for sustainable outcomes and solutions related to used packaging, especially bottles and containers. He's an expert on product stewardship and circular economy thinking and works with the Reloop Platform in Europe, as well as the Australian Council of Recycling (ACOR) in Australia for the adoption of container deposit / refund schemes; and solutions for single use and reusable packaging.

There is huge momentum behind this campaign now with even the National Party coming onboard to support a CDS. Change is in the wind, now its up to us to make sure we do it!