We're super pleased to welcome the South Waikato Achievement Trust (SWAT) to the Zero Waste Network. This charitable trust based in Tokoroa is working to create socially and environmentally just outcomes for the community. It operates two social enterprises that are in the recycling and waste minimisation sector: the operation of the South Waikato transfer station and the operation of a dedicated electronic waste collection and recycling operation servicing from Hamilton to the Kapiti Coast.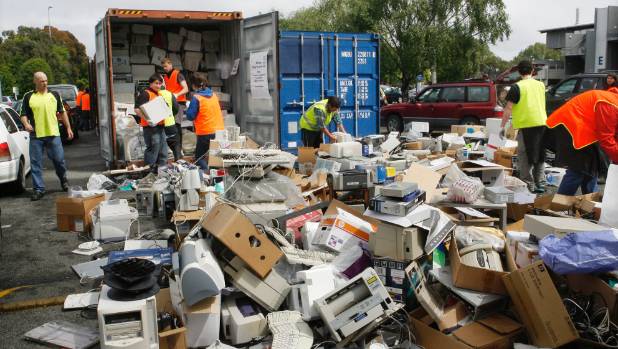 They are also providing essential community services to disadvantaged adults in the Region by providing a range of supported accommodation, community engagement opportunities as well as employment. The Trust presently supports over 100 people and employs over 50 disadvantaged people in four not-for-profit social enterprises.
At the moment, SWAT team members are dealing with tonnes of e-waste from around the Central North Island, and they are on a mission to up percentages from cities like Hamilton that are seriously lagging behind in recycling their e-waste.
The Recycling Centre has twenty-eight staff who process up to 2,500 tonnes of recyclables per annum sourced from the residential kerbside pick up and from commercial premises throughout the South Waikato region.
The Trust was founded and developed by the local community and allied business people in 1972. Since that time, the organisation has developed from a small service supporting people in the South Waikato region to now offering a wide range of programmes through business units and Community Participation and Creative Arts Units. It is based on a philosophy that it is possible to harness professional skills and knowledge with community resources and goodwill to provide a people-centred service, where everyone benefits.
SWAT has formally joined the Zero Waste Network after being involved with the Network and its members for some time. They are keen to expand their operations and the materials they deal with, and are looking at places like Xtreme Zero Waste in Raglan for inspiration and guidance. So watch this space!
Contact:
P: 07 8868941