Here's a bit of a recap of 2018 from the perspective of the Auckland Inorganic Reuse project team and our friends at the wonderful CRC's around Auckland

Community Recycling Centres

We asked the five community groups running sites for Auckland Council about to recap their year. If you haven't been already, this summer is a perfect time to go visit a site near you – drop of your unwanted goods and grab a bargain.
Waiuku Zero Waste
Exiting times for the team at Waiuku Zero Waste as we fast approaching the new year, but first let's have a look what happened in 2018.
With a diversion rate of 70% in its 5th year, Waiuku Zero waste is looking back at a very prosperous 2018. Through the hard work of the WZW team and Auckland Council, WZW has received a site upgrade and will be looking to move into a new building in 2019.
The team has grown substantially from 5 to 9 full time equivalents and are continuing to create more local jobs thanks to the continuing support of their local community.
The Reuse shop "Waiuku Junktion" customer reach is growing every day and is achieving great results thanks to the huge team effort. Saving as much from the landfill as possible by repurposing most of the items and materials although challenging at times, the team masters this with bravo.
A waste free Waiuku is one of the main objectives of the project. With this in mind, the CRC is excited to have joined forces with the local business association and the local board, to implement Waiuku branded reusable bags.
The team at Waiuku is very excited to be providing a greenwaste collection service for their town as well as a business recycling service. Also in the pipeline are study tours for groups. If that is not enough, Waiuku will also open a timber and metal yard, to further reduce waste going into landfill.

The Tipping Point
The Tipping Point had a year of transition as we upgraded our brand name and brought on new staff and improvements to the store after an unfortunate fire on the site last year. Green Jon, founder of the Tipping Point, as well as several senior staff members have moved on to other roles and Ryan Dyment and Joshua Vaughan have taken their place to lead the way going forward. Their new shipping container storage area has allowed them to accept and store more furniture while inside the store, they have added a Zero Waste Station for bulk soap, recycling and reusable containers. We also have a new website (tippingpoint.co.nz) and recently surpassed 2,000 followers on Facebook. In the coming year we are planning to launch an artist residency program to make art out of waste materials and hope to achieve higher diversion through mattress and e-waste recycling.
The Hibiscus Coast Recycling Centre
For over 30 years the Whangaparaoa recycling drop off has been serving the local community. The Hibiscus Coast Zero Waste team (HCZW) took over the management of the Whangaparaoa Community Recycling Center (WCRC) under a Service Agreement from Auckland Council in 2017. It is the smallest of the 5 CRC sites covering less than 600m2 and lacks a transfer station.
Despite free, co-mingled kerbside recycling bins to all ratepayers on the Whangaparaoa Peninsula, the recycling drop-off is well used. Users include both businesses and residents.
Some Users even come from outside the area to use this service. Since taking over the site, HCZW has made many networking connections and safety improvements such as the purchase of a solar mechanical bin lifter with a grant from the Glass Packaging forum.
To minimise transport costs, Cliff Colquhoun from CBEC is lending the use of a baler. While ReClaim provides much of the transport for glass, some plastics, metals, paper and cardboard, E-Cycle transports used appliances, e-waste and batteries to their nearby factory for disassembly and off-shore processing. Polystyrene is currently taken to the Devonport CRC for shredding and compaction. Disposer-pay charges apply to e-waste, appliances, batteries and polystyrene. The HCZW team is always exploring new ways to increase revenue given the small site.
The HCZW team also works off-site with the local business associations and community hubs to raise awareness of zero waste. HCZW hosts Zero Waste Events, Repair Cafes, public speaking engagements and newspaper articles that advocate for the waste levy, container deposit legislation and priority products against the back drop of another giant landfill proposed for the Wellsford area. Caption–from left to right Betsy Kettle, Richard Wharewaka, Gilbert O'Sughrue, Jon Thornhill, David Kettle, Brendan Parris
Helensville Community Recycling Centre

2108 has been an action packed year for the Helensville Community Recycling centre.

Here are some of their milestones:
1. Achieved our goal of 76% diversion a year and a half earlier than predicted
2. Trialed a 3 bedroom house deconstruction as a joint project with Envision NZ:
87% diversion rate (22tons)
Used Corrections workers with fantastic results
Proved that you can deconstruct for the same price as demolition
3. Set up a community garden to supply low cost produce to those in need in the community. The community garden is now a sustainable operation.
4. Held an upcycled exhibition as a part of Arts in the Ville, with the support of 7 local artists/creatives. 90% of the upcycled material selling over the 3 day exhibition.
5. Supported the rehabilitation of 322 Corrections workers, hosting them at the site and providing a place for them to complete their community service hours.
6. Supported the Special needs unit at Kaipara College by providing work experience opportunities for special needs students.
7. Added new scope of services to the operation.
Ecostore refill station
Became an Agrecovery collection agent
Set up a hire shed for repaired and upcycled items to provide access to low cost hireage of a wide range of rescued and repaired tools, appliances, sports equipment, crockery and beds.
8. Added an extra opening day. Now open Wednesday to Sunday 8am to 4pm.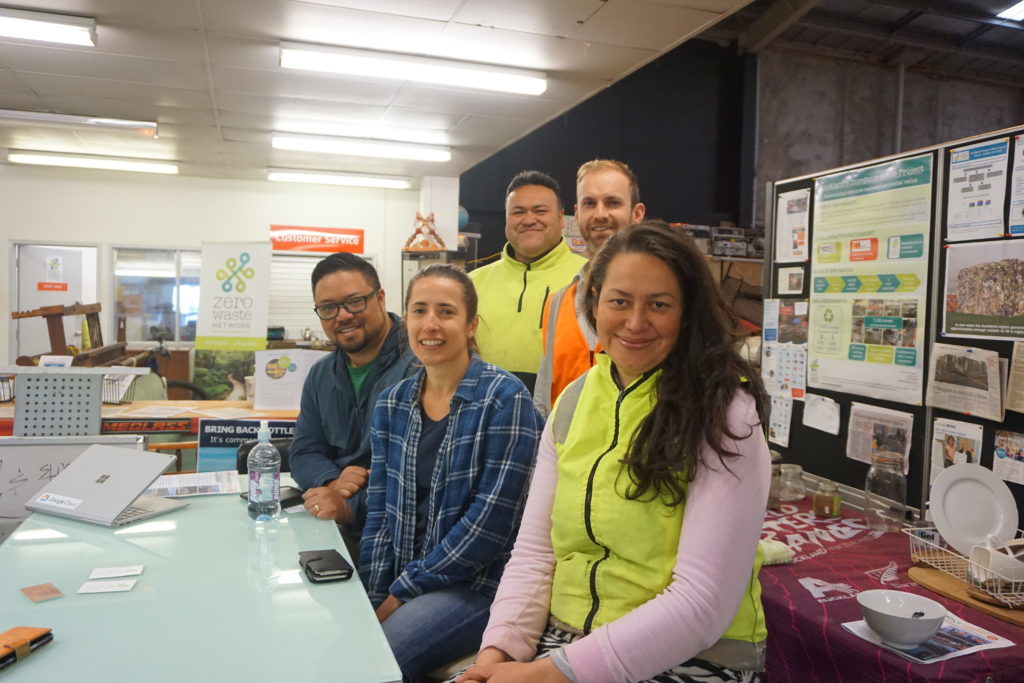 Auckland's Inorganic Reuse Project celebrates third year of operation!
Born from a collaborative partnership between Auckland Council, Waste Management and the Zero Waste Network, the new inorganic collection continues to demonstrate its positive effects across the Auckland region.
Since its start in September 2015, customer satisfaction has remained high, around 85%. There are also more residents using the service each year: with 116,000 for 2018, an increase of 22% over the previous year.
In 2018, the Auckland's Inorganic Reuse project diverted more than 1260 tonnes of resources from landfill: 866 tonnes were sent to recycling and 400 tonnes of materials were redistributed between partner community groups.
With more than 140 groups that have already signed up to collect reusable goods, the project provides support for a wide range of actors from community and charity initiatives to op-shops and Community Recycling Centres.
It also continues to provide training and employment opportunities for Social Enterprises based at the Inorganic Reuse warehouse in Glen Innes. To date, the incubation space has supported the growth of 3 Hubs: Resource Rescue refurbishing whiteware, Auckland E-Waste Revival refurbishing e-waste and Flourish NZ who refurbish furniture, overall the hubs created 7 new jobs.
Collection is now finished for the year; and will restart early March 2019. Click here to find out more or register your interest to access the reusable goods