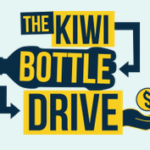 This month the Kiwi Bottle Drive is asking supporters and ZWN members to promote its petition calling on the government to introduce a bottle deposit scheme.
The group plans to deliver the petition later on this year and it will be sending out a resource-kit for all community recycling and environment centres to promote the petition and get the numbers sky-rocketing. This resource kit will be in your inbox shortly, so stay tuned!
The Kiwi Bottle Drive's open letter has been doing well, with many organisations and businesses signing on to support. If you haven't already signed your org up to it, jump online and find out how.
Want to find out how a bottle deposit scheme would work here in Aotearoa and why it would be so great for community-run recycling centres (and other groups)? Read this blog by bottle deposit campaigner Rowan Brooks, where he answers all of these questions.
Check out the Kiwi Bottle Drive Facebook page for upcoming events and find out how you can keep involved in the campaign to get bottle deposits for Aotearoa and cleaner streets for our communities