Our Auckland Inorganic Reuse project gives us the opportunity to meet some great people doing some amazing things with reusable resources. We'll be profiling a selection of the good sorts here.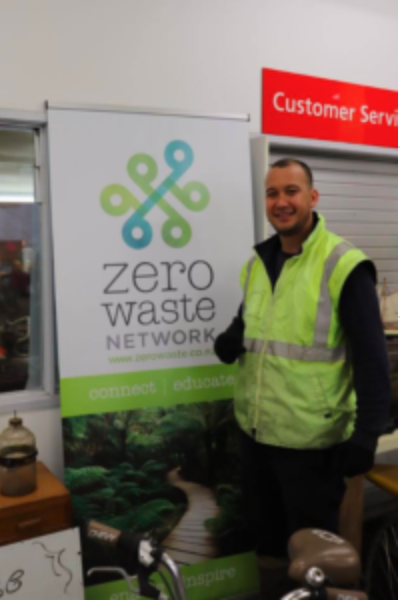 "The man who moves a mountain, begins by carrying away small stones." – Confucius
The story of Ernest Schwenke and his family is such an example.
Back in 1997 Rita Eleanor Schwenke founded the Gethsemane Trust in Apia, Samoa to provide food and shelter for the homeless. Rita would not just feed, but also take them to a close by waterfall to bath them.
Ernest Schwenke tells me that "Those people became like family. We ate using the same plates, they slept downstairs in our store even though they smelt bad at times. Mum decided to take care of them, giving them a place to stay because their families didn't want them anymore."
Ernest believes that it is back then; in his childhood, when the seed was planted in his heart and it slowly, slowly started to blossom throughout his teenage years till it lead him to "Zero Waste".
These days Ernest is eager to reactivate what his mum has started, Gethsemane Trust, as it has laid dormant after his dad died and his mum was unable to walk anymore.
Gethsemane has recently delivered approximately 400kg of clothes to the victims of the Gita cyclone in Tonga.
Ernest said that this all was possible because of the revenue he made out of the material he collects at the inorganic warehouse.
"People are coming to my house to pick up bags of clothes. Sometimes the bags are so heavy that we need 3 people to carry them. This all is possible due to the revenue we make, by selling the things coming in to the warehouse."
Ernest has big plans for the future. He would like to open a Charity shop. With the money made at the shop he would like to send a container of goods back to Samoa for the less fortunate.
He also would like to get involved in building water-tanks for people who have to walk 30min. or more to get drinking water as well as building shelters for the homeless.
We are wishing Ernest Schwenke and the whole of Gethsemane Trust the best of luck for all future endeavors.
P.S: Ernest is also a gardener, if anyone is looking for a gardener he is your man.