Shared Impact Measurement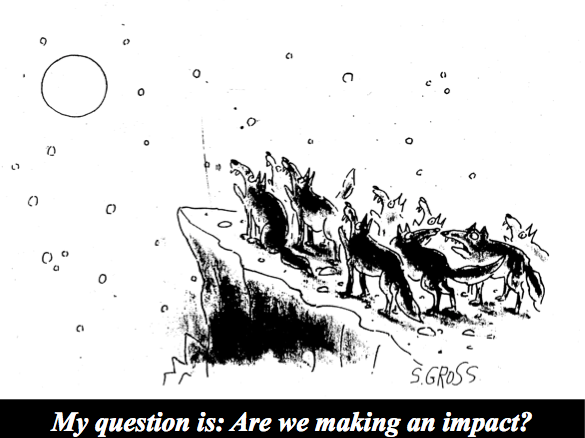 What is it?
Shared impact measurement is a collaborative approach to the collection, analysis and presentation of data about the difference being made by a group of organisations.
ZWN and Shared Impact
ZWN members currently have multiple reporting requirements – eg to funders, Charities Services, and their local communities. This requires significant time, human and financial resources.
In May 2018, the ZWN Board agreed to investigate a shared impact measurement project to look into how ZWN members define the impact they are having with a focus on reuse activities, and to develop tools and processes to help them do this.
Feedback from hui workshops and desk-based research suggests the following aspects of impact are important to the community resource recovery sector and it's stakeholders:
Economic Development Impacts
Employment outcomes. Including numbers employed and volunteering, but also information and stories about how these organisations reduce barriers to employment.
Existing information of financial performance, paired with information about the journey towards being self-funding.
Contribution to the local economy eg local multiplier effect, calculation of money saved on new goods etc.
Positive environmental impact towards zero waste
Waste diversion – in addition to information about solid waste and recycling, this part should aim to capture information on reuse. There is currently no consistent methodology for the measurement of waste data in New Zealand. The National Waste Data Framework project was funded by the Ministry for the Environment with the aim of establishing a staged approach to data collection that could be rolled out across the country. This project is unlikely likely to specifically cover reuse, which is where some of the major impact of our community enterprise happens.
Wider environmental impacts – such as carbon emissions savings, energy use and the impacts of the work being by our sector on waste reduction. Carbon calculators exist but not for the NZ waste management context, as far as I know.
Social Impacts
Participation/Reach – information about the reach of organisations such as workshop participants is often already collected
Partnerships/Community connections – eg numbers created, mapping, case studies to illustrate the impact on an individual level
Behaviour change and the effects of education programmes – Information about how programmes are leading people to act differently and more sustainably. This is likely to be a complex area as behaviour change can be slow and there are often multiple drivers for change
Social impact is another area where qualitative info is commonly used effective.
Cultural Impacts
To what extent this work impacts on cultural identity and engagement
To what extent this work impacts on place-based identity and engagement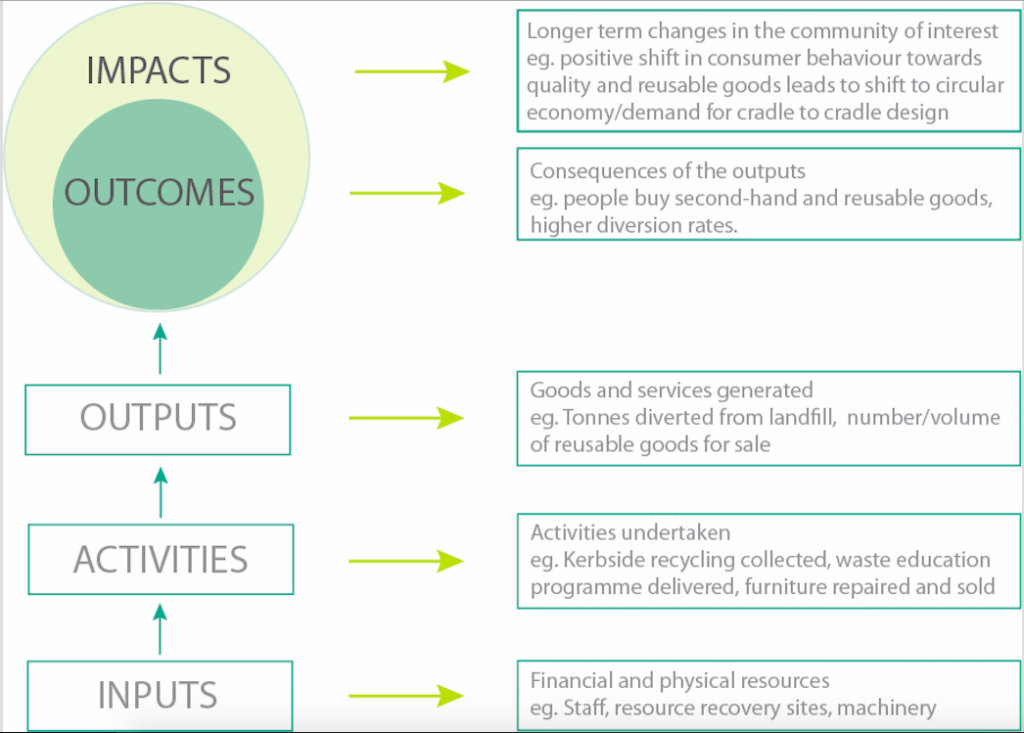 Why take a shared approach?
Shared measurement would allow for the collective impact of the Zero Waste Network to be further understood and communicated, and could offer opportunities for ZWN members to identify and strengthen best practice.
A shared approach can save time and resources by pooling of expertise and resources for the development of one tool, rather than many. It can, therefore, avoid duplication of efforts to develop measurement and in reporting for many different funders by allowing multiple funders and grantees to use the same measurement approach.
Shared measurement improves standards of impact measurement, by increasing transparency in the methods used and the results generated. Involving several organisations in developing a tool ensures that the result is balanced and independent.
So what's next?
Dorte is working on developing a framework as part of her Masters research in 2019-2020. It's crucial this project is led by practitioners – so people working in resource recovery enterprises – to ensure it ends up being something our members can actually use and find helpful. To this end we'll be asking members to take in the research by completing a survey, and for 6-12 organisations, by trialing some different tools and reporting on their effectiveness.
If you're interested in knowing more or being involved please get in touch with Dorte on dorte@zerowaste.co.nz or 021 975 352